Products
You can visit our showroom in Crumlin Village today.
Rollators
M-Brand A4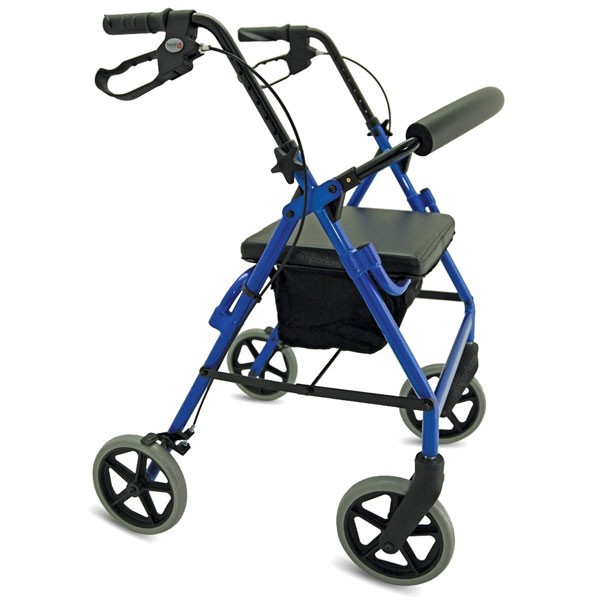 Price: €210
The M-brand Rollator with seat is a versatile and attractive wheeled walking aid. Suitable for both indoor and outdoor use, this rollator is functional and a great companion for days out or simply for manoeuvring around the home. The aluminium frame makes this rollator both lightweight yet durable. The folding mechanism allows this rollator to be folded with ease for transportation or storage. Its padded seat and and removable padded back support give you the opportunity to rest in comfort when required. The push-to-lock brakes can be used to slow the rollator or bring it to a stop, ensuring you always remain in control and comes complete with ergonomic handgrips for increased comfort. An under-seat storage bag is ideal for storing personal belongs and the 20cm (8 inch) diameter wheels ensure a smooth and comfortable ride, offering great stability for the user. It is available in three popular colour choices: red, blue or silver.
Specification
Height (Min) 77 cm
Height (Max) 91.5 cm
Seat Height 54.5 cm
Seat Width 31 cm
Weight 8 kg
Maximum User Weight 120kg
---
AEM TRI walker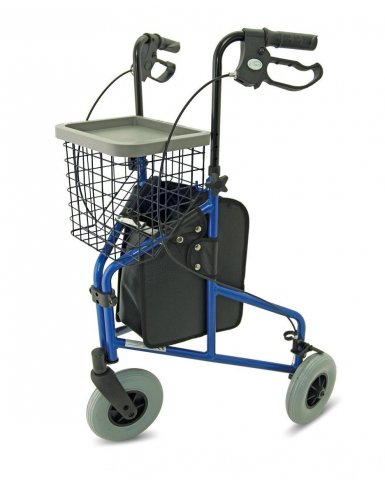 Price: €190
The lightest of the foldable Tri-Walkers with, aluminium frame, height adjustable handles and locking arthritic loop brakes.Comes with basket, tray and shopping bag.
Specification
Width: 66.7cm
Length: 56.5cm
Adj. handle height: 85.5-95.5cm
Weight (inc. bag, basket and tray): 6.3kg
Max shopping load: 5kg
Max User Weight: 120kg
---
AEM-UK Walker 2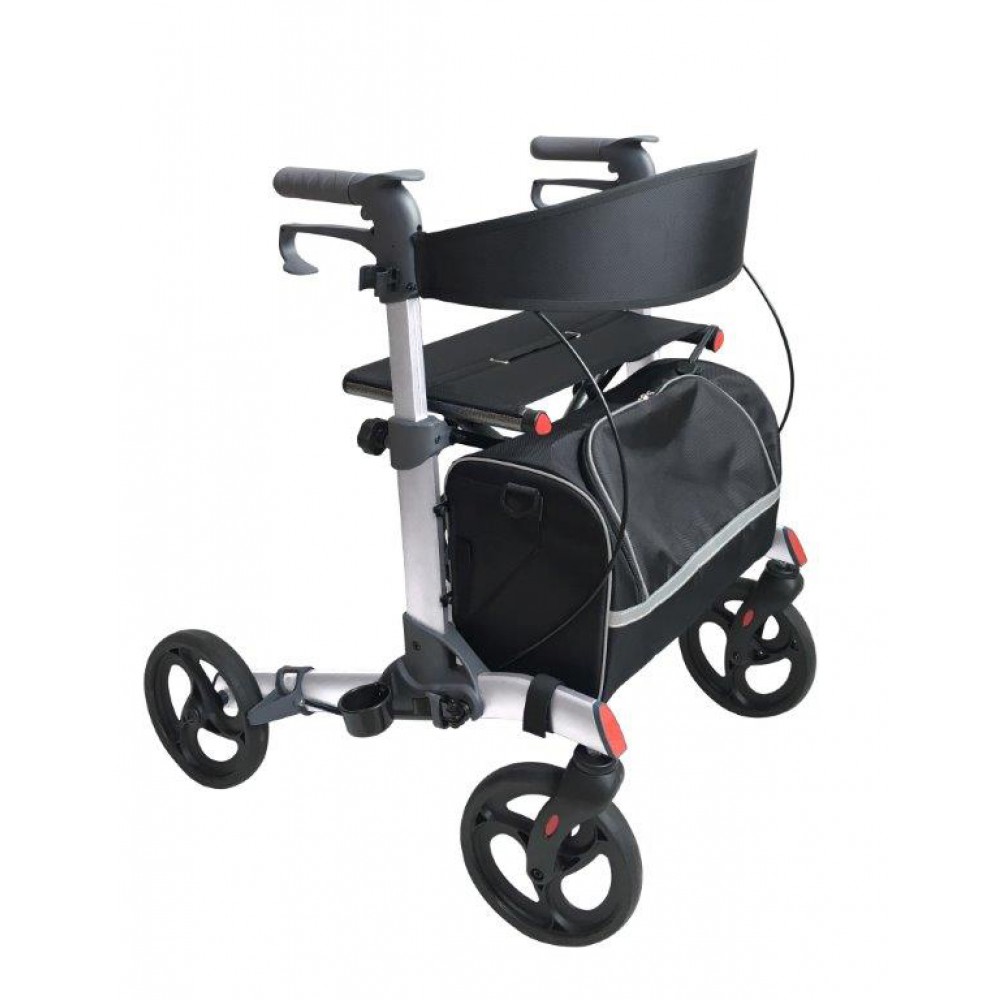 Price: €220
The Z-Tec UK Walker 2 is the new and improved version of the original UK Walker. This rollator has a double fold mechanism which means the item is easily transportable or stored away when not in use. It is also very light in weight weighing only 7.9kg including the bag. On this rollator the height of the handles can be adjusted to suit user requirements, there is also a comfortable seat and backrest, reflectors for added safety and a removable bag. Available in 3 colours, blue, red or silver.
Specification
Length: 68.5cm
Width: 62cm
Height : 77cm - 93cm
Seat Width: 54.6cm
Net Weight (Inc. Bag) : 7.9kg
Maximum Shopping Load : 5kg
Maximum User Weight : 136kg (21.4 stone)
---
AEM-Falcon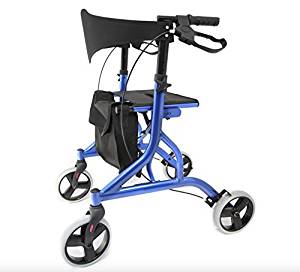 Price: €220
The Z-Tec Falcon lightweight stylish walker is suitable for indoor and outdoor use. The simple folding mechanism and lightweight 5.5kg make this easy for transportation. All aluminium construction.
Specification
Width: 64cm
Length: 72cm
Height: 78cm - 88cm
Seat Height: 56cm
Folded Width: 28cm
Wheel size:~19cm
Max User Weight: 112kg
---
AEM-Lite Rollator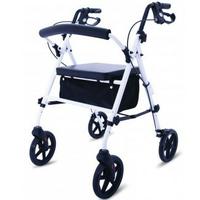 Price: €210
The Z-Tec Folding Lightweight Compact Aluminium Rollator is a small lightweight rollator with an adjustable back support and seat height, and a padded seat base. The handles are also adjustable, enabling the user to adjust to the correct position.
Specification
Adjustable handle height: 80.5cm-89.5cm
Adjustable seat height: 52cm-57cm
Width between handles: 48.75cm
Seat: 35cm(w) x 32cm(d)
Weight: 7.48kg
Maximum user weight: 113kg
---
AEM-UK Walker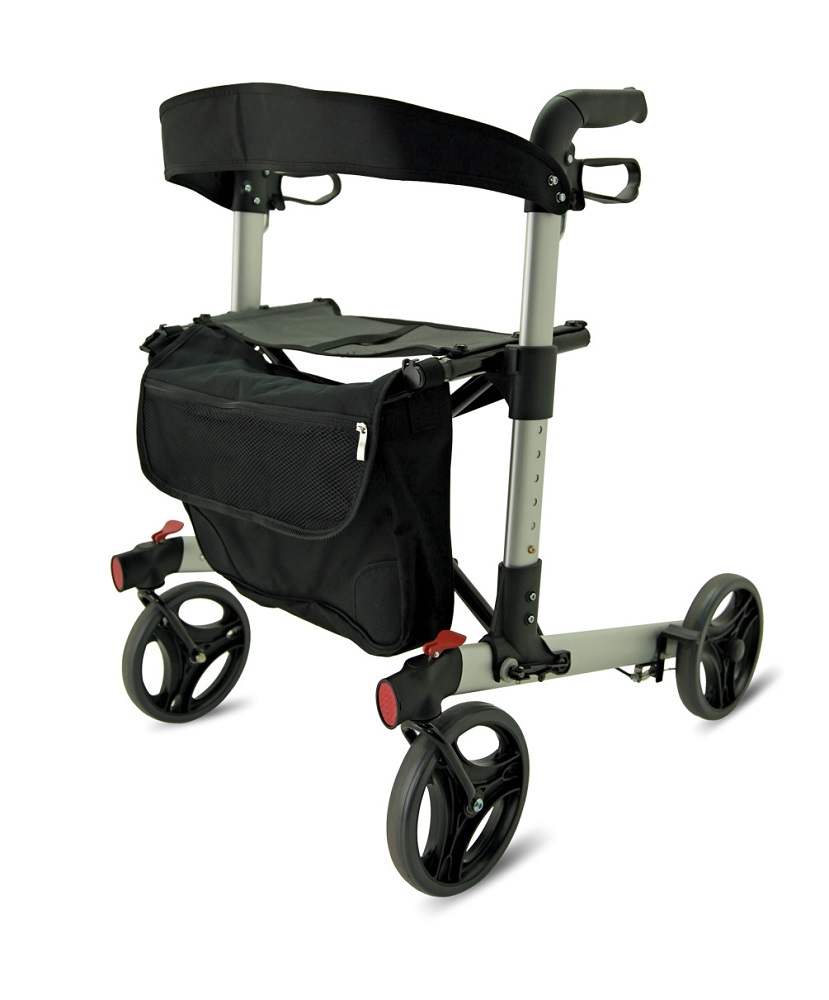 Price: €220
The lightweight aluminium AEM UK Walker has a folding design which allows it to become compact when folded. Adjustable height handles and locking arthritic loop brakes. Comes complete with backrest and removable shoulder bag.
Specification
Height Adjustable Handles:80.5cms - 93.5cms
Seat Height: 57cms
Seat Width: 45cms
Seat Depth: 19.5cms
Length Castors (Max): 77cms
Length Castors (Min) : 68cms
Wheel Diameter: 20cms
Max Width: 65cms
Net Weight: 8kgs
Max User Weight: 120kgs
---
Not all our products are listed please give us a call on 014553168 and we will work to fulfill your needs.
Our Customer Care Price Pledge
Our products are hand picked, reliable and last longer.
We will price match on any comparible products found cheaper from another Irish supplier*
We will Always give you our best pricing regardless of quantity ordered
We give you our guarantee that we will save you money on any Quotation on any comparable items*
We guarantee you a high quality product at a budget price
Free assessment and demonstration of all our products. Try before you buy
Full warranty and after sales service direct from us
(*Where possible)
For Equipment Hire Rates Please click here